Welcome back to the CSFF Blog Tour featuring Numb by John W. Otte! Monday, I shared my thoughts on the story and where to find the book in cyberspace. Today, I have the privilege of welcoming said author to my blog. And look! Another Minnesotan!
Welcome John W. Otte!
Please tell us a little about yourself. Favorite hobbies and foods. Do you have any pets? What's your favorite form of caffeine?
Well, I lead a little bit of a double life. In my "real life," I'm a Lutheran pastor in the Lutheran Church—Missouri Synod, which I realize is a meaningless name to non-Lutherans, but there you go. I've been married for about twelve years now, and we have two sons who are absolutely the joys of our life.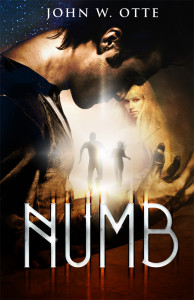 Favorite hobbies? Huh… Well, I'd have to say videogames are my favorite hobby right now. I love to play videogames on my PC—I'm not a big console fan—and I've really been getting into indie games right now. It absolutely blows me away what some people are capable of putting together all on their own. I also love reading, which is kind of why I got into writing in the first place.
As far as favorite foods go, I can't find a better meal than a good steak dinner, unless it's steak wrapped in bacon. Best. Invention. Ever.
We do not have any pets as of yet, although my oldest is really eager to get something. His top pick right now would be a dog, although fish and birds have been brought up every now and then.
And my favorite form of caffeine is Coke. The day I stop drinking Coke is the day their stock is going to tumble in value.
On your website, you mentioned that board games are one of your passions. What is your favorite?
Do I have to pick just one? Okay… If I had to pick my absolute favorite board game, I'd have to say  Colosseum. It's unfortunately out of print, but it's a really fun game that requires a ton of strategic thinking. But I'm also really fond of games like Dominion, Ticket to Ride, as well as a new one that recently came out called Nothing Personal. That one is a blast. It's a mafia management game. If you get the right people playing it, it can be a lot of fun. Oh! And Munchkin! Can't forget about Munchkin!
Wait, this was supposed to be an interview about writing, right? Sorry…
What are some of your favorite reads?
One of my absolute all-time favorite books is Paul L. Maier's A Skeleton in God's Closet. The premise of this book is simply fantastic: what would happen if a team of archaeologists found Jesus' skeleton in a tomb in Israel? What would the implications be? It's a great and very well-researched novel.
I'm also a huge fan of Michael Stackpole, both his Star Wars novels and his original stories. And I've recently been going on a binge of Brandon Sanderson's books. I just recently finished his Mistborn trilogy and I'm still blown away by what I read. I'm also a huge Neil Gaiman fan.
Tell us about Numb and how it differs from your previous work, the Failstate series.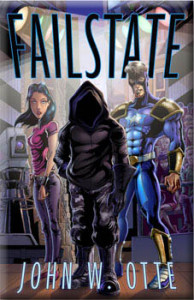 Failstate is set in an alternate version of the present where superheroes are common and have been around for years. While there is futuristic technology, it's not completely and totally outlandish (at least, it isn't to me). It follows the adventures of a teenage superhero, and the stories are mostly geared for older teens.
With Numb, my intended audience was adults (which isn't to say that older teens can't read it; there's nothing salacious in there). It's set in the future when humanity has left Earth and colonized hundreds of planets. It's more of a space opera than hard science fiction.
What kind of research did you do for Numb? Did you draw up maps of the planets, space stations, or space ships?
I admit to this with a little bit of shame: I didn't do much research for this at all. Hopefully it doesn't show. I did a little poking around to try to figure out exactly how Crusader's numbness might be accomplished and I did a little bit of skimming for some of the technology used toward the end of the story. But I didn't do any maps or floor plans or anything like that. I probably should have. There were times when we were editing the book where I had to stop and think about how the Purim was laid out and a map would have been extremely helpful.
What has been the most challenging and the most rewarding experience about writing Numb?
For me, the most challenging thing was the wait time in getting it published. I originally wrote this back in 2007 or so and, once I was done, I pitched it to a bunch of people and no one was really interested in it. And that was a bit frustrating. I was so happy when I got the contract to publish it with Marcher Lord Press. It was a long journey, but it was a good one. I wouldn't change a thing about how this turned out. Not one bit.
The most rewarding experience? Well, two things leap immediately to mind. Shortly after I finished the book, I sent it to Ronie Kendig for a potential endorsement. Ronie had just published her debut novel. When she sent me back her endorsement, she told me that she cried at the end of my book. Knowing that something I wrote caused someone to cry kind of blew me away. It wasn't a reaction I was expecting.
And the second most rewarding experience was finding out that it was a Christy Award finalist. I won't lie. That was kind of sweet.
What do you hope people walk away with after they finish reading this story?
Two things, really. First of all, I want them to see that feeling numb isn't necessarily a bad thing. I know it may seem that way, but if there's one thing I've learned over the years, it's that my emotional state toward God at any given time is not nearly as important as how God feels about me. Far too often, we Christians think we have to manufacture a certain emotional state towards God and that can be exhausting. Even though Crusader can't feel emotions, that doesn't mean that God loves him any less.
And second, I really hope people will think about whether or not political power and Christianity should intersect. That's a lesser theme in the book, but I think it's an important question that we need to answer. What kind of kingdom did Jesus come to establish?
What are you working on now? Do you have any sequels planned for Numb?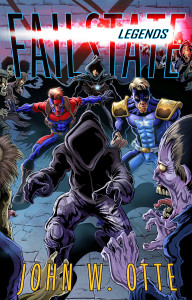 Right now, I'm sort of "between projects," so to speak, but I've also got a lot of balls in the air. I just finished the first draft of a non-fiction book that I call "The R-Rated Bible." I've also been working on revisions for a novella set in the Failstate universe featuring Kynetic, one of the characters introduced in Failstate: Legends. And I'm also in the first round of edits on the third Failstate book, Failstate: Nemesis. On top of all that, I've starting the pre-writing work on a new science fiction series. This last week, I've been doing some e-mail brainstorming with my agent and another author and the ideas are really beginning to coalesce.
As for a sequel to Numb, I kind of, sort of have one that I need to do some work on. It's called Hive. I call it a "pseudo-sequel," in that it's set in the same universe and chronologically it takes place after the events of Numb, but there's not a lot of carry-over from Numb to this one. The book needs some work, but I haven't had the time to get to it just yet.
And just for fun, if you could have one super power, what would it be?
That's easy: the ability to stop time. Sometimes I think that's the only way I can get everything done that I need to get done. I'm not sure that I'd use it to solve much crime, but it would be really helpful!
 ———
About the Author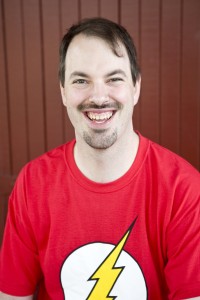 John W. Otte leads a double life. By day, he's a Lutheran minister, husband, and father of two. He graduated from Concordia University in St. Paul, Minnesota, with a theatre major, and then from Concordia Seminary in St. Louis, Missouri. By night, he writes unusual stories of geeky grace. He lives in South St. Paul, Minnesota, with his wife and two boys.
Connect with John W. Otte
Website
Facebook
Twitter
Goodreads
Thank you so much for stopping by! Don't forget to check out what others think about Numb.
Julie Bihn
Jennifer Bogart
Keanan Brand
Beckie Burnham
Pauline Creeden
Vicky DealSharingAunt
Carol Gehringer
Victor Gentile
Rebekah Gyger
Nikole Hahn
Jason Joyner
Carol Keen
Emileigh Latham
Rebekah Loper
Jennette Mbewe
Amber McCallister
Shannon McDermott
Shannon McNear
Meagan @ Blooming with Books
Rebecca LuElla Miller
Joan Nienhuis
Nissa
Faye Oygard
Writer Rani
Nathan Reimer
Jojo Sutis
Rachel Starr Thomson
Steve Trower
Shane Werlinger
Phyllis Wheeler
Nicole White