Happy Monday y'all!
My finger is doing much better. I am back to typing! Even though it feels weird, but enough about that. I've got a great read to share with you all.
The CSFF Blog Tour of Numb by John W. Otte is here!  Like science-fiction? Life or death stakes? And a touch of romance? This book has it. Today, I will share my thoughts and then Wednesday, an interview! So stay tuned!
 NUMB
by John W. Otte
Save the girl…or his soul?

Crusader is numb. He feels neither emotion nor pain, a divine gift that allows him to be the Ministrix's best assassin.

Whether it's heretics from within or heathens from without, Crusader is the sword in the True Church's hand. And if he remains obedient to his superiors, he will be able to let go of his guilt.

But then he's ordered to kill Isolda Westin. It shouldn't be a problem. A target is a target. When Crusader sees Isolda's image, though, something strange happens. He experiences a moment of panic, a wave of emotions–the first he's felt in as long as he can remember.

In that moment, he realizes he can't fulfill his mission. He can't kill Isolda Westin, even if it means he'll be condemned as an enemy of the Ministrix.

Soon Crusader and Isolda are on the run. Will they be able to learn why the Ministrix wants Isolda dead? Or will they both soon face the harsh justice of the "True Church"?
Find it on Amazon, Barnes and Noble, Marcher Lord Press, and Goodreads.
The Author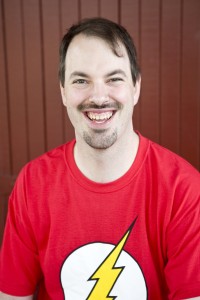 John W. Otte leads a double life. By day, he's a Lutheran minister, husband, and father of two. He graduated from Concordia University in St. Paul, Minnesota, with a theatre major, and then from Concordia Seminary in St. Louis, Missouri. By night, he writes unusual stories of geeky grace. He lives in South St. Paul, Minnesota, with his wife and two boys.
Connect with John W. Otte
Website
Facebook
Twitter
Goodreads
—My thoughts—
Imagine the early church during the time of Nero and much persecution, but set in the future, in outer space and then add the time of the Holy Roman Empire and the Inquisition, and you might get an idea of the political environment of Numb.
The Ministrix has deacons, and a pope-like figure called The Reverend Hand. It rules its territory with a visible iron fist and one not so visible–the assassins, tools to purge the world of people who do not embrace their "One True Church".
Crusader has been "gifted" with being numb, making him the perfect assassin, but his latest target, Isolda Westin is proving much too difficult to kill, and what's worse, he's finds himself on the run from the very people he works for.
I enjoyed the story a lot, and it leaves you with much to think about. The characters were real and the plot engaging. And that ending? Awesome!
If you like science-fiction flavored, edge of your seat adventures with political intrigue, and a touch of romance, read this one!
*In conjunction with the CSFF blog tour, I received a free copy of this book.*
——-
See what the other bloggers have to say and learn more about the author and his book.
Julie Bihn
Jennifer Bogart
Keanan Brand
Beckie Burnham
Pauline Creeden
Vicky DealSharingAunt
Carol Gehringer
Victor Gentile
Rebekah Gyger
Nikole Hahn
Jason Joyner
Carol Keen
Emileigh Latham
Rebekah Loper
Jennette Mbewe
Amber McCallister
Shannon McDermott
Shannon McNear
Meagan @ Blooming with Books
Rebecca LuElla Miller
Joan Nienhuis
Nissa
Faye Oygard
Writer Rani
Nathan Reimer
Jojo Sutis
Rachel Starr Thomson
Steve Trower
Shane Werlinger
Phyllis Wheeler
Nicole White