Today I have the great pleasure of welcoming Robert Treskillard to my little corner of cyberspace. You might have heard me mention him a time or two. He's the guy giving away the awesome sword. Back in November, I reviewed his debut novel, Merlin's Blade, and yesterday, we had a chance to check out the book trailers, and tomorrow, I'll share my thoughts on Merlin's Shadow, book two in the Merlin's Spiral. AND a fellow Minnesotan. How cool is that!
Welcome Mr. Treskillard! Thank you so much for taking the time to visit today!
J: First, can you tell us a little about yourself, hobbies, interests, coffee or tea? Favorite season? Have any kids? Pets?
Treskillard: As you've read, I was born and raised in Minnesota, but have lived in the St. Louis area for the last 18 years.  I definitely miss the lakes, but don't miss the mosquitoes or the snow shoveling!
Primarily I think of myself as an artist and the son of artists. My father was a portrait painter, my mother could draw, paint, and loved stained glass. So I grew up with a pencil in my hand and soon began to draw my own superhero comic books. With the dawn of the personal computer era, I was one of the first to jump into digital art and became sort of an amateur expert, if there is such a thing.
But I also have a mathematical mind, and I wanted to learn how to program those computers. What I found was that writing computer software has a kind of artistic beauty all its own. A sort of creating with algorithms and mathematics. The advent of graphical user interfaces for software increased my enjoyment all the more, as I was able to create visually for the first time. And so here I am today as a website developer for my day job, and I still enjoy it!
So how did I become a novelist? Although I've always liked writing, I mostly wrote poetry. When I was young I wrote poems for my own enjoyment and expression, and then when I was married, for my wife. I didn't think about writing a novel until 2005, and then only began to write MERLIN'S BLADE in 2006. Writing novels is a late-blooming thing for me, but I've found within it a depth of creativity that I resonate with. It also allows me an outlet for my poetry, although I had to cut quite a lot from the novel due to space constraints!
I'm married to Robin (yes, Rob & Robin!) and we're approaching our 25th anniversary of being happily married!  Robin edits all of my books before they go to the publisher. We have three children: Adele (22), Leighton (19), and Ynessa (13).  We also have a little Bichon Frise named Snowflake, and she often sits next to me in the early morning while I write.
Beside drawing, graphic design, computer programming, and novels, I also enjoy tennis, skiing, wood-working, and gardening.
Oh, and thought I enjoy coffee, I prefer herbal tea hands down.
J: Yeah, I don't miss the mosquitoes or the snow too much, but I sure do miss the Northern Lights. And lakes in Texas, what's that? Ha! What are some of your favorite reads?
Treskillard: Just about anything the following authors write:
J. R. R. Tolkien
C. S. Lewis
Rosemary Sutcliffe
Robert Louis Stevenson
Sir Walter Scott
Alfred Lord Tennyson
P. G. Wodehouse
Among contemporary authors, I'll simply mention Frank Peretti and Stephen Lawhead. Beyond that, I read very widely and don't want to forget to include anyone, so I won't even try.
J: I think it is so cool that you and your son have taken up blacksmithing and making swords. What other objects have you made? Have you taken fencing lessons?
Treskillard: Honestly, though, we haven't done blacksmithing professionally, or even extensively, but we did do it enough to have fun. And how can you not have fun with flames, banging on metal, and sparks! Here's a selection:
A grapnel hook
Coat-hooks
Mud-boot hangers
Nails — you can't have enough of those!
Knives
Arrowheads
Spearheads
I have a good friend who is ranked in fencing, but, no, I haven't taken lessons. My son has taught me quite a bit though by fighting with "boffers" … those PVC tubes covered in foam and wrapped in duct tape.  It's quite amazing how easy it is to get hurt with those things.  I don't think I'd last more than a few seconds in a real sword fight!
J: Tell us a bit about the Merlin's Spiral series and how you came up with the idea of a young Merlin before King Arthur was king, before he was even walking. How many books do you have planned for this series?
Treskillard: Somehow I gravitated toward writing for the young adult market, and that meant a young Merlin.  Influencing that was probably the fact that my kids at the time were aged 15, 12, and 6 years of age.
Also, when I began writing my son was learning to play bagpipe, so you can see where my inspiration for Garth came from.  My oldest daughter plays the harp, and that's how Natalenya was inspired.  Imelys, the weavers' daughter, is based on Ynessa.
The funny thing is that since it took so long to get published, my son was eighteen when I filmed the book trailer, so he played Merlin, which was really cool.  Putting those gel scars on his face was kind of fun!
In my case I wanted Merlin to be older than Arthur, which makes more sense of the traditional mentor role I wanted to give him.  The BBC TV show, Merlin, is the one that deviates by making them the same age.
For book three I jump sixteen years into the future so that Merlin is now in his 30's, making Arthur 18.
This allows me to transition into Arthur's perspective for the second trilogy, named THE PENDRAGON SPIRAL, which finishes off the traditional tales of King Arthur all the way to the end of his life.
Or should I bother saying "traditional"?  These books are anything but "traditional", I suppose.
All in all, I have nine books planned, though only the first three are under contract.
The final three, which I call THE EXCALIBUR SPIRAL, is an add-on story starting in the present day. As such, it is more of a "portal" fantasy like The Chronicles of Narnia, and the storyline will piggyback onto the other six novels.
J: Wow, so much to look forward too! And that final Spiral makes my brain cramp to think of the possibilities and the consequences of such. What has been the most challenging and the most rewarding experience about writing these books?
Treskillard: Oh wow. Hmmm… everything as been both challenging and rewarding!
Learning to write … especially from the perspective of a mostly blind character
Researching the history behind the books
Tutoring myself in the industry and how to get published
Finding an agent and a publisher
Making friends and fans
Starting to blog and keeping at it
Learning social networking
Really, though, the first one on the list … writing itself … probably takes the cake. All the other things are critical to be successful as an author, but none as important as learning to write and mastering the craft.
And I still have a long way to go, and must always remind myself "I'm a writer … I can do this."
J: And you did! I was definitely transported back in time and walking in the characters shoes. With the story set in fifth century Britain and drawing from the legends of King Arthur, what kind of research went into writing a series like this?
Treskillard: Well, it was tough, because there just aren't that many extant writings from the era. Not only that, but the serious scholars are fairly up in the air as to whether Arthur even existed … that's how scanty the records are.
So, what we have then are a bunch of legends dating after the actual era, and determining their veracity is rather difficult.  The cool thing, though, is that these legends have inspired so much creativity in every form of the arts, from paintings, music, novels, operas, to movies.
And so I, who am standing on the shoulders of all these incredibly creative ancients, can find both inspiration and ideas from their visions.
One of the cool things about the research, though, is studying the geography. My stories are all sited in real places, so when I write, for instance, of the village of Bosventor, I'm speaking of a real village that existed in the iron age.
If you look on the old British Ordance maps, they mark many ancient features of the land, including hut circles where old round-houses used to be.  If you look at the maps just south of modern day Dozmary Pool (my Lake Dosmurtanlyn), you will find an iron age village at the exact location where my Bosventor sits.  These kind of connections to the real history of the land are really fun to create.
J: I love maps! I will have to look into that. Which, reminds me, there wasn't any maps in the advanced reader copy I received, that would have been really cool. What do you hope people walk away with after they finish reading the books?
Treskillard: It would be my hope that readers of Merlin's Blade find some bravery—bravery to face their own problems despite the difficulties they are encumbered with.  We may not be blind, but each one of us has our own disabilities, even if they are of the soul. Bravery only takes a moment to begin breaking the cycle of retreat.
J: Can you tell us a bit about this awesome contest? The SWORD. How many prizes? When is it over?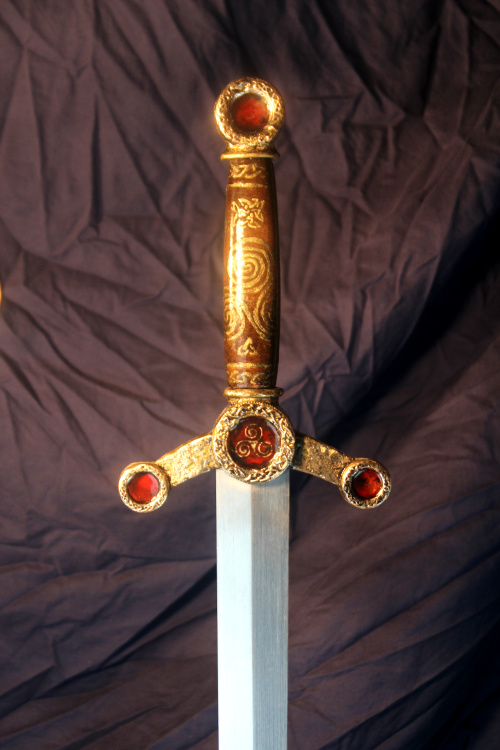 Treskillard: Well, I'm having a contest for each novel of THE MERLIN SPIRAL, and the grand prize winner will receive their very own Excalibur with the hilt and pommel bronze-cast by the author!  This sword will be a close-duplicate of the one photographed on the cover of the books … only this one will have dull edges for safety.
The intermediate contest prizes are:
1st place  = a $150 gift … the options of which will change with each contest, but will always include a Kindle Fire HD.
2nd place = a $40 gift … for contest #1 it was an iPod Shuffle.
3rd – 7th place winners receive a full color MERLIN'S BLADE t-shirt.
Contest #1 just finished, but I'm allowing late-comers to still earn points promoting Merlin's Blade so they can have a chance at winning Excalibur!
Also, if anyone lives near St. Louis, Missouri, I'll be posting the date online when I'll be doing the bronze-casting if anyone wants to come and watch!
J: That is so awesome. I doubt my hubby will want to make a trip, but I can always hope, right? Ha! What are you working on now? What's next for you?
Treskillard: I'm actually adding—with my editors blessing—a few chapters to the end of MERLIN'S NIGHTMARE.  We both agreed that the trilogy needed a more satisfying ending point.
So … back to research and plotting, writing and editing!
And wow, do I have some HUGE surprises and other cool things in store for the reader, so pin your cloaks on, strap your blade to your hip, and find your staff … this will be one entertaining adventure!
J: I can't wait! And just for fun, if you could go back to experience any place in history, where and when would it be, and why?
Treskillard: Well, let me fudge a bit and give two answers.
For pure history, I'd love to go back to the time of my book and visit the very village that I've written about. That would be WAY cool!
But, for the people of history, I'd love to go and visit the meetings of the Inklings—Tolkien and Lewis in particular. That was such a magical period of time—I wonder if they had any idea how special and incubating it was?  Really, it was the birth of a genre, and the world would never be the same.
Which makes me wonder: how many of us are also living in "special times" but are unaware of it?
Those men are gone, each and every one. Yet we are here, and it is our shoes that leave the footprints now, not theirs. Perhaps our longing for the past is best met right where we are, right where we live, with the very people who live beside us each and every day and ignore.  Perhaps we need to live and love the days we've been given before they're gone. They fly away all too fast.
What we need are new eyes.
Hmmm.
Maybe I'll just stay put, hug my wife and kids, light the wood stove and brew some tea…
J: I love how you came full circle with that answer. Good thoughts to ponder! Thank you so much for visiting with us and answering my questions!
Well, readers, what do you think? Has your curiosity been piqued? If you'd like to find out more information about Robert Treskillard or his books:
Like his Facebook Page.
Follow him on Twitter.
If you haven't had a chance to pick up the first book, Merlin's Blade, check out Jojo's Corner on the CSFF blog tour as she is giving away a copy, otherwise you can find it on Amazon and Barnes and Noble.
Don't forget to check out all the other blogs, you never know what interesting tidbit you'll might find and check back tomorrow for my review of Merlin's Shadow.
Red Bissell
Thomas Clayton Booher
Beckie Burnham
Jeff Chapman
Pauline Creeden
April Erwin
Victor Gentile
Ryan Heart
Timothy Hicks
Jason Joyner
Carol Keen
Jennette Mbewe
Amber McCallister
Shannon McDermott
Meagan @ Blooming with Books
Rebecca LuElla Miller
Joan Nienhuis
Nissa
Jalynn Patterson
Writer Rani
Nathan Reimer
Chawna Schroeder
Jacque Stengl
Jojo Sutis
Robert Treskillard
Steve Trower
Shane Werlinger
Phyllis Wheeler
Deborah Wilson