Happy Saturday!
I know it isn't a Friday when I normally do my link feast, but there are so many awesome things to share with you all. Free books, cool giveaways, and yeah, that's about it, but that's pretty cool, isn't it? And some of the giveaways are ending tomorrow night!
Right now, there's a bunch of free books from Enclave Publishing. So without further ado:
Free books
Half of the kingdom is shrouded in Darkness. On the side that still sees the sun, two young adults struggle to understand the magical abilities thrust upon them.
It's called bloodvoicing. Some say it's a gift. One of the newly "gifted" wish it had never come.
Jill Williamson's award-winning epic fantasy series, Blood of Kings, tells the story of Achan, an orphan who's been a stray all his life. When an enigmatic knight offers to train Achan for the Kingsguard, he readily accepts. But his new skills with the sword do not prepare him for the battle raging between the voices in his head.
Vrell Sparrow is not who she seems. She masquerades as a boy to avoid marriage to a powerful prince who seeks to exploit her. But Vrell feels called to help a young squire who recently discovered his bloodvoicing gift, even if doing so puts her in the path of her enemy.
While Achan learns to use his new ability, Vrell struggles to shut hers down. All the voices strive to learn Achan and Vrell's true identities—and a different kind of voice is calling them both to adventure, romance and a truth that just might push back Darkness for good.
Why did Robin Laughlin (aka. Failstate) think being a superhero on a reality show would be a good idea again? Things seemed so simple: win the show, become an official, licensed hero. But with his brother, Ben (aka. Gauntlet) stealing America's heart and his own powers proving too unwieldy even for the monitored studio challenges, Robin begins to wonder if his calling isn't to save the world after all.
Until one of his competitors is murdered.
Vowing to find the killer, Robin sets out on a very real quest to unmask the hidden villain. Can Robin find justice? Or will his lunk of a big brother ruin everything?
Sandfly is a debugger. He is property. Bought and paid for by his master, a relatively benign lord in a future Earth living under sharia law.
All other faiths but one have been banned. And the word of the great Imam is supreme.
Sandfly just wants to debug his master's robots and avoid the mental pain shocks sent from the remote triggers owned by all the masters. But now he's been called into Earth orbit. Apparently the masters have a new spacecraft—one capable of interstellar flight. And on its maiden voyage, the only robot on board went mad and tore itself limb from limb.
Why? Better question: does it pose any risk to humans?
When Sandfly reviews the bot's files and replays its last moments, he hears something strange playing in the bot's ears as they orbit Betelgeuse.
He hears singing.
Is it just solar winds interfering with the robot's wiring? Or is it something else?
As Sandfly pieces together the clues, the masters spread the trap before his feet. Everyone is racing to the same conclusion, but only one side welcomes what that singing represents.
Have at You! Cyrus Solburg is a young man who dreams of becoming a Hero in a fantasy world in which Heroes owe monthly dues and Villains are allowed only one eclipse per fiscal quarter. Cyrus becomes the apprentice to Sir Reginald Ogleby, also known as the Crimson Slash, a towering swordsman with a titanic sword and a penchant for self-narrating his own battles. It's up to Reginald to train Cyrus in the essentials of Heroism so that one day, at the conclusion of his first Quest, Cyrus may become a Hero, Second Class.
More is afoot than the routine of training in the arts of Heroic Derring-Do, however. A bona fide Arch-Villain is on the loose. And this Villain is particularly interested in Cyrus, not least because of how Cyrus seems to have magic coming to him in spite of himself, resulting in tremendous disruption of the magical planes. Entering into the fray come a wise-cracking Dragon, a petulant gargoyle, the Heroes' Guild, the Army of DarknessTM, and a horde of cursed invisible Centaurs. Cyrus will have to call on his friends, a beautiful young cat girl, and all the power of the Capital Letters and Arbitrary Numbers if he is to live to become a full-fledged Hero.
It's been almost five hundred years since the collapse of the Great Commonwealth. The plagues left folk few and far between. City-states rule the continent of Galderica. There's coin to be had in trade— whether you take your wares by aeroplane or ride them over the rails.
Winchell Sark has a fine life as a reporter for the Perch Advocate newspaper, a good family at home and a faith that seems downright peculiar to most everyone else. So when he is called out to investigate a biplane crash at the foot of Perch, the finest center of aviation in the Sawtooth Mountains, he doesn't think much of it.
But there are dark powers at work—powers that have their eye on Perch. Powers that mankind long thought consigned to the trash heap of mythology. 'Cept they were wrong.
It's up to Winch and his brother, Copernicus, a hotshot pilot, to save their people—and it ain't going to be easy.
Rick Macey is former military, and he's got the bionic enhancements to show for it. Now he's a detective specializing in religious counter-terrorism. Which is ironic, because Macey long ago lost his faith.
Now the company that produces "the miracle treatment," an expensive elixir that causes people to halt the decay of their DNA (and thus halt aging indefinitely) has come calling for Macey—by name.
It seems that the miracle cure's primary spokesperson has just died—of natural causes. So much for living forever. Billions of dollars are at stake if word of this gets out to the public. They have to keep believing that the cure works.
A beautiful executive at the corporation believes there is something sinister behind the spokesperson's death, and that it is religiously motivated. Macey has been recommended to her—but they don't have much time to prove her theory before the press gets wind of what's going on.
Especially since Macey wants no part in anything that would cause people to be cursed with living forever. He knows all too much about that.
Before it's over, Macey will find enemies of friends, brothers of enemies, and romance and faith in the midst of high-stakes combat at the edge of human ability.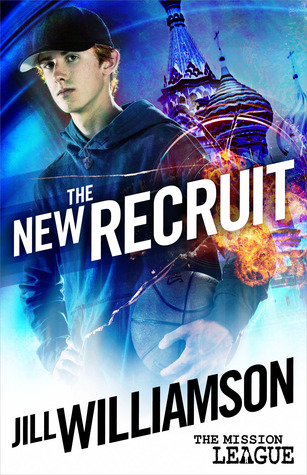 YOU HAVE ACCESSED THE INTERNATIONAL SERVER FOR THE MISSION LEAGUE. THESE FILES CONTAIN CLASSIFIED INFORMATION ON THE ORGANIZATION, AGENTS, CRIMINALS, PROCEDURES, TRAININGS, AND MISSIONS.
GOD HAS CALLED. YOU HAVE ANSWERED.
Mission 1: Moscow
Forced to choose between military school and a Christian spy organization, skeptic Spencer Garmond signs on with the Bible geeks. But before he even boards the plane for Moscow, Spencer realizes this is no Bible club.
These guys mean business.
Stumbling onto a case involving a gang of homeless boys, a chilling tattoo, and the always beautiful Anya Vseveloda, Spencer struggles to find the faith needed to save the Mission League from enemy infiltration.
The New Recruit is the first book in a thrilling new spy adventure series designed for reluctant tween and teen audiences.
Baden picked up the wrong book.
In the far future, the civilized worlds have finally been freed of the curse of religion. Tolerance now rules the five colonies. Thanks to the secret police, no one has been bothered by so much as a hymn in two generations-much less a Torah, Koran, or that most dangerous of books, a Bible.
Baden is a young man with an attitude. He spends his spare time salvaging wrecks in deep space, claiming for himself whatever the pirates leave behind. One day, Baden finds a book. A strange and very old book, preserved carefully against the ravages of deep space. Thinking he'll become rich if only for the value of the paper, he takes it. He counts himself lucky beyond all imagining. Until it begins talking to him.
Amidst an interstellar war that threatens to overthrow the monarchy and drive great families to oblivion, Baden must evade the secret police and their attempts to get that book. Baden never had much use for religion. But it seems one has use of him.
Susan Mitchell sees herself as an ordinary soccer mom, until she's pulled through a portal into another world, where a nation grappling for its soul waits for a promised Restorer to save their people.
She has always longed to do something important for God, but can she fill this role?
While she struggles to adapt to a foreign culture, she tackles an enemy that is poisoning the minds of the people, uncovers a corrupt ruling Council, and learns that God can use even her floundering attempts at service in surprising ways.
This new expanded edition of The Restorer includes an in-depth devotion guide for readers who want to dig into the spiritual themes of the book, bonus scenes providing glimpses of the story through a variety of characters, and fun extras including links to songs and recipes.
Giveaways!
Well, first off, I'm doing a giveaway! If you've seen CSFF blog tour this week, you'll know that Storm Siren was the featured book this month. And I'm giving away a hardcover copy of Storm Siren! So check out my post from this past Monday to see how to enter to win it!
Rebecca P. Minor is celebrating the re-release of her novella, Divine Summons by giving away a poster of the awesome artwork featured on the book. Isn't that poster gorgeous?!
This rescue isn't going at all how he planned. Secondhand hero Prince Arpien intends to gain a throne and the sleeping beauty's heart with a single kiss when he wakes her from the evil fairy's curse. But kissing the princess is only the beginning of a series of unforeseen obstacles: man-eating bugs, deadly spindles, talking lapdogs, and fiery pickles. The sleeping beauty is the biggest complication of all.
Princess Brierly is Beautiful and fairy-Gifted, but also . . . daft. After one hundred years of sleep imprisonment, Brierly refuses to believe this rescue is anything more than a tantalizing but doomed dream.
Arpien is drawn to the vibrancy beneath Brierly's indifferent exterior. Can they reclaim her kingdom? Do they dare trust in the Prince of the old tales to help them battle the evil fairy who cursed Brierly? What is the price of waking beauty?
Head on over to Goodreads to enter this one!
Through the breaking ice, in a vortex of brilliant light, energy, and sound, Jeremy plunges into a dangerous and mysterious new world. It is a world where music is absolutely prohibited – on pain of death. And Jeremy breaks that law when he arrives in Persus Am in a swirling cloud of light and music. A stranger in a strange land, he does not know why he has been sent. But it soon becomes clear that he must risk everything to help his new friends in the weary and war-torn world. From the vast Gray Desert to the jeweled palace of Persus Am, the forbidding Rock of Calad to the fabled land of Caladria, Jeremy finds himself in the midst of horrifying evil and heroic goodness. As he searches for an answer to why he is here, he must face the truth that is written on his own heart.
Head on over to Goodreads to enter this one!
Hope y'all have a great rest of the weekend!