Happy Friday!
Loads of folks are celebrating today as Enclave Publishing just released their fall line up, and with new releases, comes giveaways, blog tours, and Facebook Parties. Oh my!
A Time to Speak
What happens when you live longer than you wanted to?
Parvin Blackwater wanted to die, but now she's being called to be a leader. The only problem is, no one wants to follow.
The Council is using Jude's Clock-matching invention to force "new-and-improved" Clocks on the public. Those who can't afford one are packed into boxcars like cattle and used for the Council's purposes. Parvin and Solomon team up to rescue the people. Instead, they find themselves on a cargo ship of Radicals headed out to sea. What will the Council do to them? And why are people suddenly dying before their Clocks have zeroed-out?
The Hive
Why is Zain pregnant? She belongs to the Hive, a collective of cyborgs who choose to live apart from the rest of human society. At times, the Hive rent out some of their females to produce tailor-made children for paying couples. But Zain is an engineer, not a breeder. When she finds herself separated from the Hive, she decides to find the person who she thinks ordered the baby. Surely they'll help her find her way home.
Matthew "Scorn" Nelson has spent the better part of his teenage years cracking computer systems, causing mischief and havoc wherever he can. But the night of his greatest triumph turned into a painful memory, one he wants to erase. But that night was also his first step on a road to faith. When Zain arrives on his doorstep, Scorn is horrified. What's he supposed to do with a pregnant teenage cyborg?
Unfortunately, he'll have to answer that question on the run. Zain's people want to reclaim her and terminate her pregnancy. And both the Ministrix and the Praesidium, two intergalactic governments in a constant state of cold war, want Zain's baby for their own reasons. Will their enemies run them down? Or will Zain find a new Hive for both her and her child?
Embers
He's coming for them. And the kingdom.
Haegan and Kaelyria Celahar are royal heirs of the Nine Kingdoms, but Haegan is physically crippled. What chance does he have against Poired Dyrth, the greatest enemy the kingdom has ever faced, who wields fire with a power none can match?
Their only hope is forbidden: Kaelyria must transfer her fire-harnessing abilities to Haegan. When she does it comes with a terrible price: Haegan's disability is healed, but only by being transferred to Kaelyria. This decision causes their father, King Zireli, to unleash his wrath against Haegan.
Haegan flees the kingdom alone with two impossible tasks: Find a cure for Kaelyria and stop the coming war with the omnipotent Poired Dyrth.
Rebel
The last time Timothy broke a rule, he got suspended.
But when he defies the faery empress, it might well get him killed.
Timothy Sinclair doesn't believe in faeries – after all the hardships he's suffered since his missionary parents sent him away to boarding school, he's not even sure he still believes in God. But when a tiny winged girl named Linden bursts into his life and begs him to help save her people, the skeptical Timothy finds himself drawn into a struggle against a potent evil that threatens humans and faeries alike.
With a deadly pair of hunters on their trail, Timothy and Linden flee across country, drawn by the legend of a white stone that could be the faeries' salvation. But the dangers that await them test their courage and resolve to the limit, threatening to tear their unlikely partnership apart. And when it comes down to one last desperate battle, they and all the people they love will be doomed unless Linden and Timothy can find the faith to overcome…
Book two of the No Ordinary Fairy Tale series.
AND
Here's an awesome opportunity to win them all plus a $50 Amazon gift card! Head on over to RelzReviews!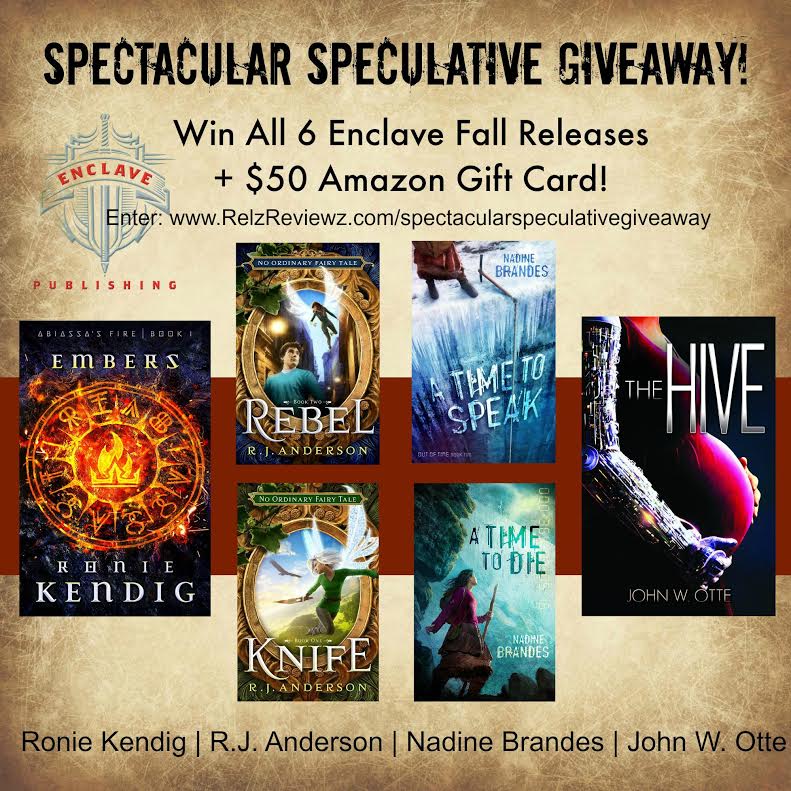 ***
Enclave Publishing isn't the only one releasing books today. We also have Ralene Burke's Bellanok: A Reluctant Savior! She will be one of our special guests for the Facebook Party this Saturday. Whoot!
Bellanok: A Reluctant Savior
Bellanok is a haven for myths and legends . . . until evil discovers a way in. Now the fairy queen, Fauna, must journey from the island realm to the modern world to find the man the Creator appointed to save their kingdom. A man she has been dreaming of her whole life.
Brian is a down-on-his-luck pastor on the verge of giving up on God. He's tired and frustrated–a failure. No sooner does he make a decision that jeopardizes his career than an unusual blonde woman shows up and tries to convince him he is some kind of savior.
Fauna must open Brian's eyes to a different reality, and Brian needs to embrace the haven's secrets. If neither of them succeeds, Bellanok will succumb to evil and the world will lose all trace of innocence.
***
Whew. I'm all blogged out now. Ha! I'll just save the rest of the cool stuff for next month. Hope you have a great weekend! And I hope to see you at the Facebook party! By the way, just got the prizes in. They look so cool!! Can't wait!