One word. EPIC.
Where do I even begin?
When I first heard about Merlin's Blade, the cover caught my eye. I started seeing it pop up all over cyberspace, and friends were raving about it. I added it to my to-read list. When the author offered a handful of copies for a read and share contest, I jumped at the chance.
Merlin. Just the name conjures up quite a lot of images. For me, he has been mostly connected to King Arthur. A second hand man, a supporting character. But not in this book. Most of us have some familiarity with the Arthurian legends, stories, movies, so going into a book like this, I'm looking for that connection of familiarity. And this is the first time I've read about the young Merlin, before Arthur was King, before he was even old enough to crawl.
Merlin is a shy, half-blind boy of a swordsmith. He seems like a normal boy with a crush on a girl, trying to do what's right, and helping out the abbey and its priests. But he isn't, and we are left wondering the mystery surrounding him. Why him? Why did the wolves hunt him? Why did he receive the visions? Why was he given the special torc? But his integrity and personality drew me to him. True chivalry. He remained steadfast, despite his weaknesses, his blindness, and all the circumstances, obstacles that stood against him. I love stories that strengthen my resolve to be a better person.
The story, the setting, just came to life. I felt like I stepped back in time to fifth century Britain. It is a time of political upheaval and religious clashes between Christians and the druids. Even with the grounded, historical feel, there's just enough of the fantastical to whet the appetite of fantasy lovers. The power of the stone, the visions Merlin has, the druids' magic, the miracles of God. Everything is shrouded in mystery, and as Merlin learns, we learn. I look to the subsequent novels to reveal it and answer the questions remaining at the end of this book, especially the ones surrounding Merlin.
With a big cast, I sometimes had a hard time remembering who was who at the beginning, but it didn't' hinder my enjoyment. There were several different point of views, and as the action picked up, we switched between them quicker, building the tension. As a reader, I could see what the characters could not, and I could only watch helplessly as the characters made choices and marched off in a direction we know will end badly.
This book has the makings of epic. The layers, subplots, a grand cast of characters, and a map. Politics, religion, kings, bards, and peasants. The poetry, songs, history, visions, and prophecies. It's all there. Oh, and did I mention the secret code??? Awesome!
I'm having a hard time describing how much I liked this book without giving away too much information. It is a story to make you think "What if?" A re-envisioning of Merlin and what that might mean for the future King Arthur, and what these stories will bring to the Arthurian legends.
I'm ready to dive into book two!
About the Author
Robert Treskillard is a Celtic enthusiast who holds a B.A. in Biblical & Theological Studies from Bethel University, Minnesota. He has been crafting stories from his early youth, is a software developer, graphic artist, and sometime bladesmith. He and his wife have three children and are still homeschooling their youngest. They live in the country outside St. Louis, Missouri. It all began when Robert's son wanted to learn blacksmithing and sword-making. The two set out to learn the crafts and in the process were told by a relative that they were descended from a Cornish blacksmith. This lit the fire of Robert's imagination, and so welding his Celtic research to his love of the legends of King Arthur, a book was forged—Merlin's Blade, book one of The Merlin Spiral, now published by Zondervan / BLINK Young Adult Books and available wherever books are sold.www.KingArthur.org.uk
Connect with him:
The Contest!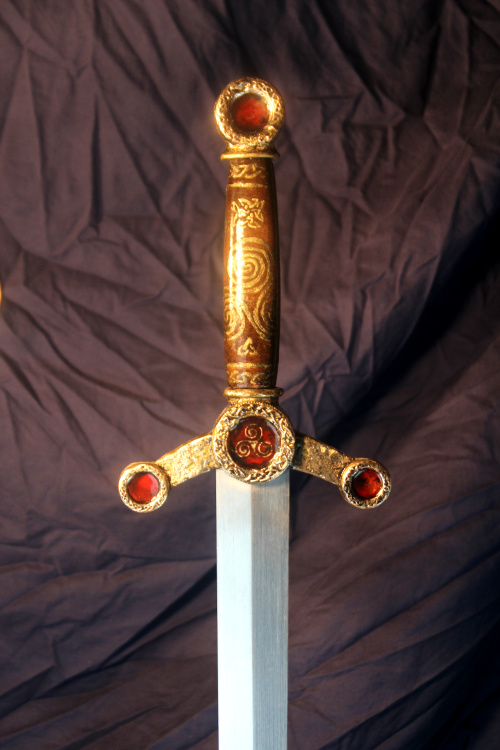 You might have seen me mention this contest earlier in one of my link feasts. It's not every day someone is giving away a sword!! Am I the only one excited about this? Ha! Robert Treskillard is running an awesome contest with the grand prize of Excalibur just like the one you see on the book cover with a hilt and scabbard hand-made by him! Not to mention a bunch of other cool prizes, so stop by his website for more information.