This is the last day of the CSFF Blog Tour, but the giveaway will continue accepting entries until Sunday at 11:59pm.
Monday, I shared about book one, Storm Siren, and my thoughts on it. Yesterday, I shared some interview links that I thought were pretty cool. But today, I thought it be great to check out book two, Siren's Fury, coming this June!
I think the title's appropriate. If I was Nym, I'd be furious too. Ha!
Some of you might have already seen the cover. It is quite breathtaking, although, I think Storm Siren's cover is my favorite. What do you think?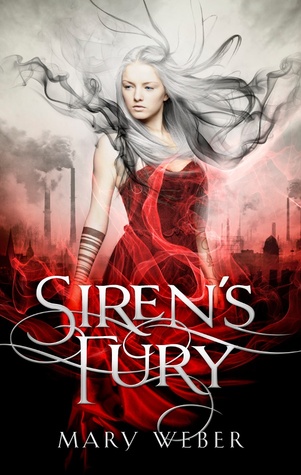 "I thrust my hand toward the sky as my voice begs the Elemental inside me to waken and rise. But it's no use. The curse I've spent my entire life abhorring—the thing I trained so hard to control—no longer exists."
Nym has saved Faelen only to discover that Draewulf stole everything she valued. Now he's destroyed her Elemental storm-summoning ability as well.
When Nym sneaks off with a host of delegates to Bron, Lord Myles offers her the chance for a new kind of power and the whispered hope that it may do more than simply defeat the monster she loathes. But the secrets the Bron people have kept concealed, along with the horrors Draewulf has developed, may require more than simply harnessing a darker ability.
They may require who she is.
Set against the stark metallic backdrop of the Bron kingdom, Nym is faced with the chance to change the future.
Or was that Draewulf's plan for her all along?
Available for pre-order at Amazon and at Barnes and Noble.
Don't forget to enter to win the hardcover copy of Storm Siren and then hop on over to check out the other blogs on the rest of the tour. Have a great rest of the week!
Julie Bihn
Lauren Bombardier
Beckie Burnham
Vicky DealSharingAunt
George Duncan
April Erwin
Carol Gehringer
Victor Gentile
Ryan Heart
Timothy Hicks
Janeen Ippolito
Carol Keen
Emileigh Latham
Simone Lilly-Egerter
Jennette Mbewe
Shannon McDermott
Meagan @ Blooming with Books
Rebecca LuElla Miller
Joan Nienhuis
Nissa
Jalynn Patterson
Audrey Sauble
Chawna Schroeder
Jojo Sutis
Steve Trower
Phyllis Wheeler
Michelle R. Wood